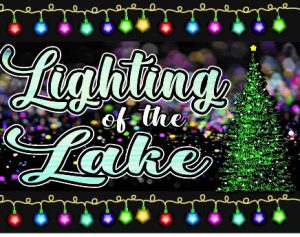 LIGHT UP THE DOCKS AROUND WHITE LAKE AND MAKE THIS HOLIDAY SEASON A LITTLE BRIGHTER!
Lighting of the Lake contest info 2 – registration form. Form should be emailed to chamber@elizabethtownnc.org
The Elizabethtown – White Lake Area Chamber of Commerce is announcing the Lighting of the Lake Holiday Dock Decorating Contest for White Lake business and residents to kick off the Warm Southern Christmas Celebration in Bladen County. The Lighting of the Lake is being sponsored by Duke Energy.
"This is a chance to show the beauty of White Lake," Chamber Executive Director, Terri Dennison said. "Our plan is to kick-off the contest on Saturday, November 28 and let people vote on their favorites until Sunday, December 20."
Dennison added that the Lighting of the Lake is a great companion to the all ready popular Festival of Lights at Lu Mil Vineyard and hopefully will attract more visitors to follow the Chamber's slogan, "Come for the Shopping, Stay for the Lights'.
The contest is open to all residents and businesses around White Lake. Rules for the contest are:
Participants must register before Friday., November 20. Registrations are available on the Chamber's website (www.elizabethtownwhitelake.com) or at the White Lake Marine and White Lake Town Hall.
Lights should be on a timer set for 6-10pm daily.
Lights should be up by Saturday, Nov. 28 and stay up until at least Dec. 24.
There are four viewing points: White Lake Marine, Alexander Street, Camp Clearwater and Timberlodge Pier. Signs will direct visitors to the viewpoints.
Visitor's will have a chance to vote on their favorite on-line at the Chamber's website until Sunday, Dec. 20. First, second and third place will be awarded in both the Business and Residential category. Winners will be announced the week of Dec. 21
The prizes for the contest include: for Businesses: 1st Place – Canvas Print from Jamie Corbett, Whitelakelifenc.com, 2nd Place –  $25 Gas Card from White Lake Marina and 3rd Place – $25 Gift Certificate from Barefoot Brew. For the Residential category, prizes include 1st Place – Gift Bag ($150 value) from White Lake Marine,  2nd Place – $25 Gas Card from White Lake Marina and 3rd Place – $25 Gift Certificate from Barefoot Sandwich Shop.
Sign up your place of business or residence – Lighting of the Lake contest info 2