For immediate release

Tree Reservations Now Being Taken for Christmas at the Farmers Market: Honoring Hometown Heroes
Contact: Terri Dennison – 910-862-4368
Christmas at the Farmers Market – tree reservation form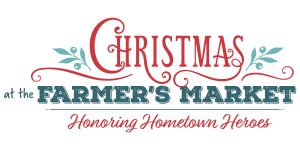 The Elizabethtown-White Lake Area Chamber of Commerce and Cape Fear Valley Health have announced a special tribute to essential workers, called Christmas at the Farmers Market: Honoring Hometown Heroes. Individual, families and organizations are encouraged to reserve and decorate a live Christmas Tree at the Farmers Market.
The tribute is sponsored by Cape Fear Valley Health and is intended to recognize those workers who continued working and providing services during the Coronavirus pandemic. Trees can honor one or a group of workers.
"The idea is to bring a sense of hope and gratitude to everyone this holiday season," Chamber Executive Director Terri Dennison said. Christmas at the Farmer's Market is part of the overall "Warm Southern Christmas: Come for the Shopping, Stay for the Lights" promotion where the Chamber has developed activities that provide safe social distancing over a longer period of time.
Pre-reservation of tree is required. Trees will be available for decoration on Wednesday, November 25 and must be completed by dusk on Friday, November 27. Since the trees will stay outside until after Christmas, Dennison recommends that decorations should be able to withstand the weather. If the decorators wish to light the trees, an extra long extension cord should be brought along.
Sponsorship and reservation of a tree is $20, which will benefit the Bladen County Hospital Foundation. Over the kick-off weekend, visitors to the Farmers market will be able to vote on their favorite tree for $1, which will also go to the Foundation. At 4pm on Sunday, the votes will be counted and the first, second and third place prizes will be announced.
Interested people or organizations can call the Chamber at 910-862-4368 or stop by the office at 207 E. Broad St, Elizabethtown. Or download the Christmas at the Farmers Market – tree reservation and email to tdennison@elizabethtownnc.org