Relax at the Nation's Safest Beach – White Lake, NC
White Lake Water Festival 2019 from Star Communications Production on Vimeo.
ACCOMMODATIONS AT WHITE LAKE
Brisson's Cottages 910 862-2495
Camp Clearwater 910 862-3365
Carolyn's Cozy Cabins 910 862-5368
FFA Camp 919 515 9054
Goldston's Beach 910 862-4064
Harold's Campground 910 247-6432
Langston's Motel & Cottages 862-2597
Lasley's Motel 910 862-3473
Melwood Court Motel & Apts 910 862-2416
Regal Resort Motel 910 862-2427
Regal Resort RV Camp 910 862-2427
Silver Sands Motel & Apartments 910-862-8116
Sundeck Apartments 910 862-2358
Tarheel Cottages 910 862-3373
White Lake Motel & Campground 910 862-3947
Real Estate/Rentals:
White Lake Realty 910 862-4898
Hilton Realty 910 862-4549
Global Realty 910-862-4500
Days Inn (Elizbethtown) 910 862-7444
Lu Mil Vineyard (Cabins in Dublin) 910 866-5819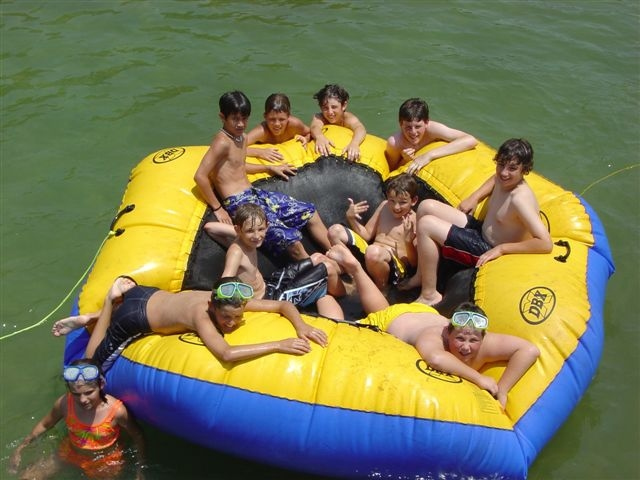 White Lake's first commercial operation opened in 1901. The town was incorporated in 1951 and has a population of approximately 500 year-round residents with thousands of tourist visiting the lake each summer. White Lake offers swimming, boating, and water skiing for the perfect family vacation. The lake has an amusement park, miniature golf, and a first class Water Park. Motels, cottages, and campground accommodations are available as well as permanent home sites. A beautiful 18-hole golf course is located between Elizabethtown and White Lake. Because it is fed by subterranean springs, White Lake has a white sandy bottom and crystal clear waters. There are no currents, no tides, and no hazardous depressions. It has been labeled "The Nation's Safest Beach." Some accommodations are open all year. It is a choice resort area for southeastern North Carolina. White Lake is home to the annual White Lake Water Festival. For more information, visit their website at www.whitelakenc.com.


Fishermen find the U.S. Locks and Dam site, located on the banks of the Cape Fear River at Elizabethtown, one of the most productive areas anywhere for shad fishing.Bladen Lake State Forest, under the Game Lands Program of the N.C. Wildlife Commission, has 3,500 acres set aside for still hunters and 29,000 acres available for still or dog hunting for big and small game.N.C. State Parks operate nearby Jones Lake and Singletary Lake. Water sports, hiking, camping, and picnicking are available at each lake.


The Bladen County Recreation Department provides parks with areas for softball, soccer, football and tennis.Historic Tory Hole Park in Elizabethtown is the site of a Revolutionary War battle. Picnic areas, a playground, a fitness trail, and an amphitheater are part of the park.
LOCATION OF WHITE LAKE

:


In Bladen County on US Hwy 701 and NC Hwy's 41 &53, ten miles North of Elizabethtown.

SIZE:


11/2 miles wide X 2 miles long, 7 mile drive around the Lake that covers 1,065 acres.

CLIMATE:


Average Temperature: 63F Average rainfall per year: 49.06″

POPULATION:


Est. year round: 500 Tourists per year: 200,000

TOWN OFFICE:


Open 5 days per week Phone: (910)862-4800

TAXES:


City property taxes are $.48 per $100 based on 100% valuation.County taxes are $.7375 per $100 bases on 100% valuation plus user fees.

PETS:


No pets at large. (City Rule)

ACCOMMODATIONS:


Motels, Apartments, Trailers, Rooms, Cottages, Campgrounds.

AVERAGE RATES:

Motel Room:
Family of 4: $54.00-$65.00 per night
Family of 6: $65.00-$89.00 per night

Efficiency Rooms & Apartments:
Family of 4: $67.00-$90.00 per night
Family of 6: $90.00 per night
Family of 8: $125.00 per night

Trailers:
Family of 6: $100.00 per night

$550.00 per week

Cottages:
Prices are determined by sleeping accomidations and size.
Prices are $375.00-$900.00 per week.
Camping Spaces: $25.00-$35.00 per night.

WEEKLY RATES ARE AVAILABLE FOR ALL ACCOMMODATIONS

FISHING, BOATING, HUNTING & SWIMMING REGULATIONS:Regulations are set by the NC Wildlife Resources Commission.
The lake is patrolled by Wildlife Protectors.REPORT ALL BOATING ACCIDENTS WITHIN 10 DAYS to theWhite Lake Police at 862-4057.Skin diving is permitted with divers flags, no spear fishing.The poles are the dividing line between boating and swimming areas and there is a no-wake speed limit between the poles and the shoreline.Boats towing skiers must travel straight in and straight out from the shoreline to the boating area beyond the erected poles.Boats may not travel parallel to shore between the poles and the shoreline, at any speed. This is a designated swimming area.A Town ordinance makes diving illegal. Do not dive off piers.No lifeguards are on duty due to the clear shallow waters of the Lake. Do not leave children unattended.

Fishing is fair for Bream, Large Mouth Bass, Yellow Perch and Catfish. Three rivers are available for fishing.

RECREATION:Amusement Parks with Rides, Games, Miniature Golf, Bingo, Sunbathing, Arcades, Swimming, Boating, Water Skiing, Souvenirs, Food, Golf, and Groceries

FISHING LICENSES can be purchased at Wal-Mart in Elizabethtown.