Christmas at FM Vendor form 2022
Saturday, November 26, 2022 – SHOP LOCAL SATURDA
Thank you to everyone who attended this event, we had a fabulous day
Find local vendors with a variety of products set up at the Farmers Market
Performances by local talent
Saturday, December 3, 2022 – ALL ABOUT THE KIDS
We had a great time. The kids certainly enjoyed themselves.
Thank you to Bladen County extension office, Bo from Barefoot's Sandwiches Shop and Burney's Sweets & More for helping create a great event.
Saturday, December 10, 2022 – SANTA PAWS & CLAWS
9AM – 2PM: Santa Claus available for picture with pets
Mini-adoption – Shelter Pets
Pet micro-chipping
Complimentary nail trimmings from Barking Lot
Other vendors
11AM – 12PM: Registration for Ugly Sweater Pet Costume Look-Alike Contest
12PM: Winner Announced Pet Costume Contest ($10 Barefoot Brew Gift Certificate)
Saturday, December 17, 2022 – FOODIES CHRISTMAS
9am – 2pm: Displays and info on
– how to make a local gift basket
– locally made Holiday drinks
Local food related vendors
Cake & Pie Contest
9am – 10am: Drop off entrees
12pm: Judging
registration info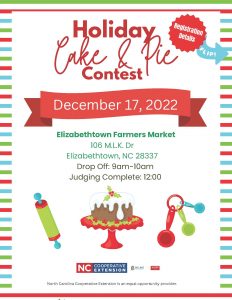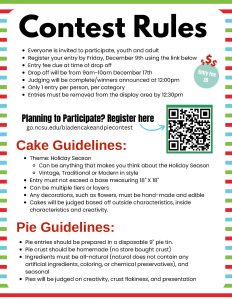 To be a vendor, download and fill out the vendor form.
Christmas at FM Vendor form 2022
Forms can be emailed to tdennison@elizabethtownnc.org or mailed to Elizabethtown-White Lake Area Chamber of Commerce, PO Box 306, Elizabethtown NC 28337.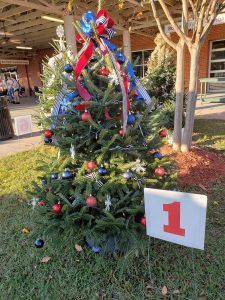 Christmas Grove of Trees Decorating Contest
The Elizabethtown-White Lake Area Chamber of Commerce and Cape Fear Valley Health are sponsoring a Christmas Tree Decorating Contest as part of Christmas at the Farmers Market. Individual, families and organizations are encouraged to reserve and decorate a live Christmas Tree by end-of-business on November 23.
The theme of this year's contest is "Christmas Past, Present and Future".
Participants are encouraged to decorate their tree based on the theme. There is a limit of 10 trees.
Sponsorship and reservation of a tree is $20, which will benefit the Empty Stocking Fund.
During the Saturdays of Christmas at the Farmers Market, visitors will be able to vote on their favorite tree for $1, which will also go to the Empty Stocking Fund.
At 2:30pm on Saturday, Dec. 17, the votes will be counted and the first, second and third place winners will be announced.