Christmas at FM Vendor form 2023
Saturday, November 25, 2023 – SHOP LOCAL SATURDAY


Find local vendors with a variety of products set up at the Farmers Market
Performances by local talent
Saturday, December 2, 2023 – SANTA PAWS & CLAWS
9AM – 2PM: Santa Claus available for picture with pets
Mini-adoption – Shelter Pets
Pet micro-chipping
Complimentary nail trimmings from Barking Lot
Other vendors
11AM – 12PM: Registration for Ugly Sweater Pet Costume Look-Alike Contest
Saturday, December 9, 2023 – ALL ABOUT THE KIDS


 The kids will certainly enjoy themselves with Elf Story Hour, Magic Show, cookie decorating, ornament making and Kid's Open Mike Caroling.

9AM – 2PM
Saturday, December 16, 2023 – BLADEN CHRISTMAS MARKETPLACE
9am – 2pm: Displays and info on
– how to make a local gift basket
– locally made Holiday drinks
Local food related vendors
To be a vendor, download and fill out:  Christmas at FM Vendor form 2023
Forms can be emailed to tdennison@elizabethtownnc.org or mailed to Elizabethtown-White Lake Area Chamber of Commerce, PO Box 306, Elizabethtown NC 28337.
 Christmas Grove of Trees Decorating Contest


Great fun for family, businesses and teams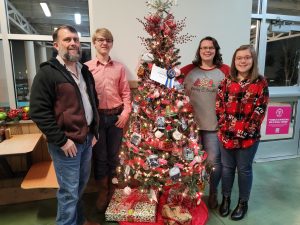 Last year, the Yandle Family won the tree decorating contest.
Their tree was filled with pictures and memorabilia about past and present day Elizabethtown.
Help us celebrate out theme "Hometown Holidays" by sponsoring and decorating a Christmas Tree in the Cape Fear Farmers Market. Best tree by popularity vote wins a $25 gift certificate to Burney's Sweets & More.
Trees will be available to decorate on Tuesday, November 14 and should be completed by end-of-day on Friday, November 24. The trees will remain up until Christmas. Visitors will be able to vote for their favorite tree every Saturday during the Christmas at the Farmers Market events.
Sponsorships are $20
Make checks payable to the Elizabethtown-White Lake Chamber of Commerce,
PO Box 306, Elizabethtown NC 28337 Proceeds will go to the Empty Stocking Fund
Download the form:  Christmas at the Farmers Market – tree reservation
• Trees will be inside the Farmers Market and accessible to the public. Please do not use expensive or heirloom decorations.
• Once your reservation is obtained, we will contact you with the number of your tree.
• The trees are pre-lit and positioned near an electrical outlet. Do not move tree to another location.