44th White Lake Water Festival
May 20 & 21, 2022
Food Vendor Application – WLWF Food Vendor App 2022
Non-food Vendor Application – WLWF Vendor App 2022 – non-food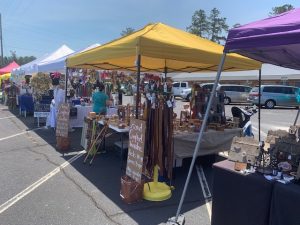 Vendors are invited to display and sell at the 44th Annual White Lake Water Festival on Saturday, May 21
LOCATION: Goldston's Beach parking lot and various places along White Lake Drive
TYPES OF VENDORS: authentic crafts, nonprofit organizations, business display booths, and factory made items.
FOOD VENDORS (due May 6 at the latest): We would like to offer a large variety of foods, snacks and beverages. We do however have a non-competitive selection process. Food vendors should submit a list of items they can prepare indicating their specialties.
Once approved, Food Vendors must:
– obtain a Temporary Food Establishment permit from the Bladen County Environmental Health Division. First step is to contact Bladen County at 910-862-6852.  Download the Bladen County Health – TFE Permit
– provide proof of insurance.
COSTS: The vendor fee for a 10×10 booth space is $50. Please indicate how many spaces on your form. The fee is nonrefundable due to inclement weather.
UNLOADING, SET-UP AND PARKING:  Vendors are responsible for their own set up including tent, tables, and chairs.. Set up times for vendors are 7 am – 9 am. All vendor vehicles are expected to be parked in the designated vendor parking area by 9 am. No cars or trailer may be stored on or adjacent to vendor site. We do not provide electricity and generators are prohibited inside the festival site unless given permission by the committee prior to the event.
LIABILITY: Each vendor will assume liability for any and all damages done to his/her facility, goods/services, equipment and injuries to any Festival participants. Furthermore, vendors shall hold harmless the Festival, its Directors, Staff, Etc. of all claims, fees, cost, expenses, and damages. All taxes are the sole responsibility of the vendor.
BOOTH ASSIGNMENTS: Booth assignments may change as the site layout is prepared. Therefore, we do not mail booth assignments in advance to the date of the festival. Our volunteers will be available to direct you to your space the morning of the event!
GPS Address is: 1608 White Lake Drive, White Lake NC 28337
WLWF Vendor App 2022 – non-food
Please mail checks in the amount of $50.00 per site requested and the completed application to:
Elizabethtown-White Lake Area Chamber of Commerce
PO Box 306, Elizabethtown NC 28337
PLEASE RETURN BY APRIL 30!