The schedule includes:
Dec. 4—Gingerbread House Contest & Music with Nick Peavy

Dec. 11— Santa Paws Walk & Pictures of Your Pets
Bring your four-legged family members out to the Farmers Market for a day of fun and festivity.
 9AM – 1PM
Pawliday Portraits
Get your pet's picture taken for the Holidays. $10 for 3 digital photos
 10AM
Santa Paws Fun Walk
Dress you and your pets alike and come join us for a friendly easy walk down King Street to the Town Hall and back.
Registration starts at 9AM.
MUSIC & VENDORS 
Pets must be on a leash and under control at all times.
Pets are not allowed inside the Farmers Market building.
Dec. 18 – Last Minute Shopping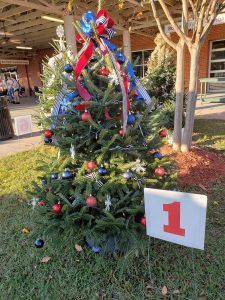 Christmas Grove and Tree Decorating Contest

The Elizabethtown-White Lake Area Chamber of Commerce and Cape Fear Valley Health are sponsoring a Christmas Tree Decorating Contest as part of Christmas at the Farmers Market. Individual, families and organizations are encouraged to reserve and decorate a live Christmas Tree by end-of-business on December 3.
The theme of this year's contest is "Our Future Looks Bright". Participants are encouraged to decorate their tree based on the theme. There is a limit of 10 trees. Sponsorship and reservation of a tree is $20, which will benefit the Empty Stocking Fund. ***All trees have been reserved***
On December 4 and 11, visitors to the Farmers Market will be able to vote on their favorite tree for $1, which will also go to the Empty Stocking Fund. At 2:30pm on Saturday, Dec. 11, the votes will be counted and the first, second and third place prizes will be announced.